A Career in Pain Medicine
Pain Medicine is a discipline of medicine involved in the management of patients, of all ages, with acute and chronic pain
The work is complex and stimulating, requiring a holistic overview of the latest science and the interplay of biopsychosocial factors.
What is Pain Medicine?
Pain is associated with a huge range of health conditions. Pain Medicine is the medical specialty focused on the prevention of pain, its diagnosis, treatment, and helping people to improve their functioning and quality of life.
Why Pain Medicine?
For those who enjoy the technical aspects of Anaesthesia, particularly Regional Anaesthesia, but miss the patient-doctor interaction that comes with long-term care and the challenges of diagnostic evaluation, Pain Medicine is the specialty for you.
What are the benefits of working as a Pain Medicine specialist?
Your own practice: The opportunity to develop their own practice, seeing patients through from referral to assessment. This will include diagnostics and working longer term with patients by building a therapeutic relationship and following up outcomes.
Work-life balance: The ability to better control your workload and ways of working. Specialists, including those with family commitments, do not undertake on-call.
Multi-professional colleagues: You get to work in multi-professional teams with specialist pain nurses, psychologists, physiotherapists and occupational therapists.
Multi-disciplinary working: Pain teams are most commonly multi-disciplinary teams involving decision-making with radiologists, surgeons from varied specialties, palliative medicine physicians and much more.
Beyond secondary care: Specialists often work closely with colleagues in primary and community care and have strong educational and service development roles.
Varied and interesting: Specialist can be part of an inpatient pain team in addition to outpatient work.
Interventions: Interventional practice is often an important part of the pain doctor's contribution to the team and can be very rewarding when significant improvements in pain levels are achieved.
Specialised skills: Some pain doctors are involved in specialised services such as inpatient pain management programmes, neuromodulation and implanted drug delivery, cancer pain interventions and paediatric pain management.
A changing landscape: Research into pain mechanisms and management is a rapidly advancing area and offers many opportunities for pain physicians.
What do Pain Medicine doctors do?
Pain Medicine doctors care for patients with pain in a variety of settings such as tertiary, secondary and primary care. This often includes inpatient, outpatient and pain interventional work, providing continuity of care, often in collaboration with the referring medical practitioners, and other medical specialists and allied health care professionals.
Pain Medicine doctors work with a large degree of autonomy but are also key members of a multidisciplinary team (defined in the FPM core standards document) providing diagnosis and management of complex pain problems.
Pain Medicine doctors undertake some or all of the following when managing a patient:
Comprehensive assessment of the patient (including physical complaints, functional limitations, psychological status and the occupational and social impact of the pain)
Physical examination
Review of investigations
Ordering of new investigations
Formulation of a management plan
Communication with all relevant healthcare professionals and carers
Onward referral to other healthcare professionals if appropriate
Prescription of medication, performance of interventional procedures
Referral for physical or psychological techniques
Appropriate discharge and follow-up plans
Some Pain Medicine doctors choose to specialise in specific areas of Pain Medicine. For more information on subspecialty areas please see our subspecialty module pages.
A career as a Pain Medicine doctor
A career as a doctor in Pain Medicine starts with a medical degree. Pain Medicine is a subspecialty of Anaesthesia. There are opportunities for exposure and training in Pain Medicine at different stages of medical training.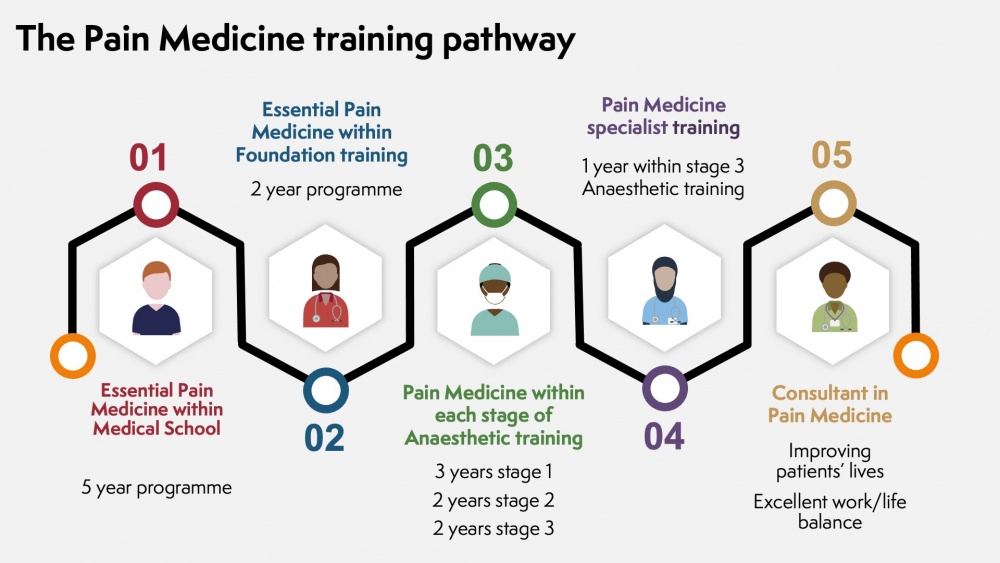 In the UK, a degree in medicine provides the training required for a career as a doctor.
A career as a doctor offer many different opportunities and variety of career paths in different aspects of clinical medicine, research and the development of new techniques and medicine. Pain Medicine is one of the medical subspecialties.
The majority of Medical Schools provide teaching on the assessment and early management of pain in the form of the Essential Pain Management UK programme.
Further information on medical degrees, the type of courses, and schools can be obtained from BMA, Health careers, Medical schools council.

After completing the medical degree, work and postgraduate training starts. The first two years after completing a medical degree will be Foundation Training. This is a work based training programme aimed at bridging the gap between medical school and specialty/general practice. Within this programme, experience will be gained through different training posts in a number of medical specialties. The management of peoples' pain will be a daily activity for junior doctors and further experience and training in pain management can be gained through the Essential Pain Management UK programme for Foundation doctors. Further information on Foundation training programmes can be found on www.foundationprogramme.nhs.uk

As Pain Medicine is a subspecialty of Anaesthesia, Pain Medicine specialist training can only be accessed as part of an Anaesthetic training programme.
The specialist Anaesthetic training programme follows the Anaesthetic curriculum 2021. The Anaesthetic curriculum contains 14 domains encompassing clinical and non-clinical practice, of which pain management is one. The training is divided into 3 stages with advancing complexity and sophistication.
This starts with the comprehensive introduction to Anaesthetic practice focusing on elective and emergency anaesthetic practice and perioperative care. Clinical experience will be gained in primarily in a low to moderate risk patient population with some supervised exposure to more complex cases. Relevant skills will also be developed in Pain Medicine. The Pain Medicine skills will be focused on the assessment and management of acute pain.
Stage 1 training lasts an indicative period of three years, with posts referred to as CT1, CT2 and CT3. By the end of CT3, you need to have completed your Primary FRCA examination so that you can progress to the next stage of training.
During this stage, there is an introduction to specialist areas of anaesthetic practice and consolidation of the skills gained in Stage 1 in 'generalist' practice with greater autonomy whilst developing skills in managing a higher risk patient population. There will be further experience and training in managing acute, acute on chronic and chronic pain.
Stage 2 training lasts an indicative two years, with posts referred to as ST4 and ST5. You will need to complete the Final FRCA examination during this stage.
This is the final stage of training that will prepare you for the transition to independent consultant anaesthetic practice. The training will equip you to manage complex clinical and operational issues. This stage of training also provides the opportunity to train in a special interest area such as Pain Medicine.
Training and experience in the special interest area of Pain Medicine at this stage will equip you to provide comprehensive management for patients with pain using physical, pharmacological, interventional and psychological techniques in a multidisciplinary setting. There is an expectation that you will complete the FFPMRCA examination during this stage of training. Completion of stage 3 special interest area in Pain Medicine is essential to practice as a Consultant in Pain Medicine.
Completion of all 3 stages of training will lead to the award of your CCT (Certificate of Completion of Training) in Anaesthesia which can also encompasses the special interest in Pain Medicine and you will be entered onto the GMC's specialist register.
As a consultant in Anaesthesia and Pain Medicine you may choose to continue to divide your working time between practising either of these specialties. Some consultants choose to practise solely in Pain Medicine. There are further opportunities for consultants to develop interests and skills in specialist areas of Pain Medicine.

Want to know what it's really like?
Read some career stories of doctors practising Pain Medicine.